Trisen Quality Assurance
TRISEN practices a Quality Assurance approach in our manufacturing process. QA is the methodology of prevention that evaluates various aspects of a new product introduction or service to determine the minimum standards of quality being restored by the manufacturing process at every stage of the product life cycle. We ensure products are defect-free by preventing mistakes with Quality Assurance. We are focused on providing confidence that quality requirements will be fulfilled and regulatory compliance by documenting the practices, creating a policy, training the employees, and conducting periodic audits to ensure that quality standards are met.
Quality Assurance Flow Chart
---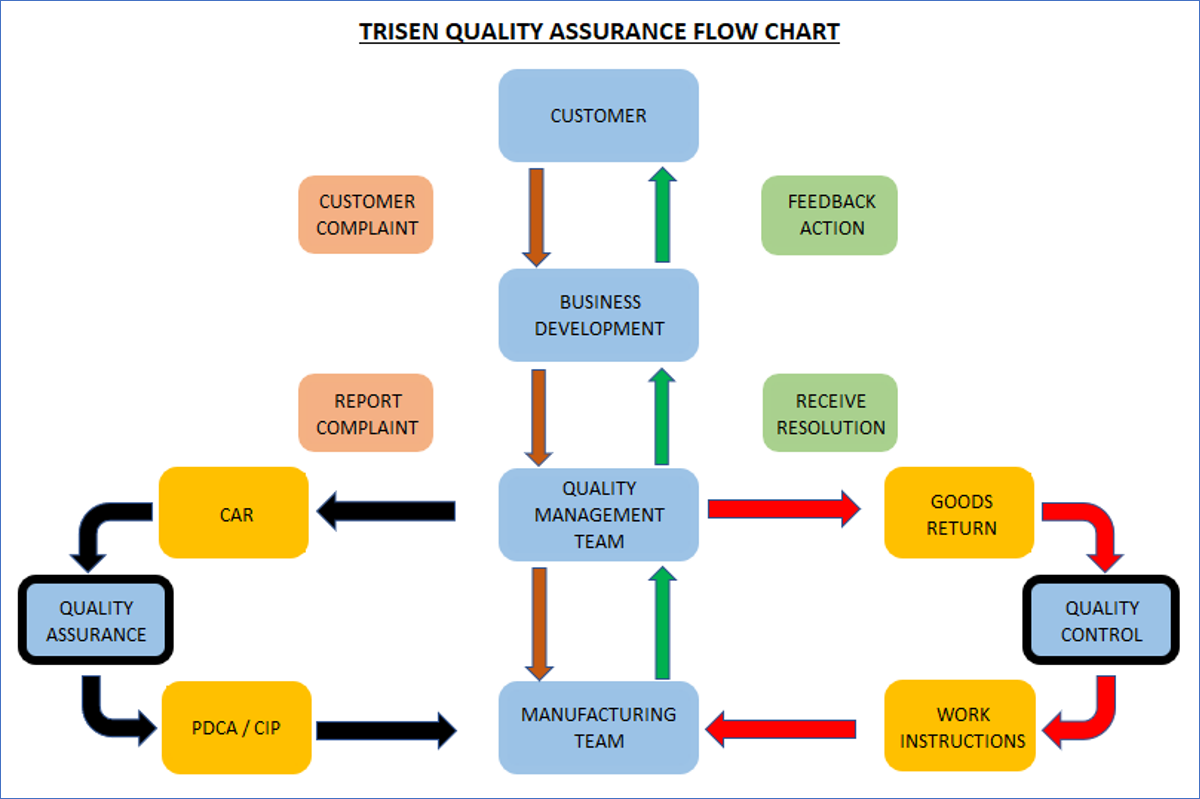 Our Quality Assurance Principles
---
Our Quality Assurance Process
---
Step 1
Identify Improvement Opportunity: Select the appropriate process for improvement.
Step 2
Analyze: Identify and verify the root cause(s).
Step 3
Take Action: Plan and implement actions that correct the root cause(s).
Step 4
Study Results: Confirm the actions taken to achieve the target.
Step 5
Standardize Solution: Ensure the improved level of performance is maintained.
Step 6
Plan for the Future: Evaluate the team's effectiveness Set a target for improvement.
Our Quality Assurance Tools
---
The Benefit of Quality Assurance
---
Quality Assurance (QA) Surveillance
---
TRISEN monitor quality assurance surveillence as an on going verification that the vendor's quality system meets the contractual quality requirements.
Our Quality Management Plan (QMP)
---
The Quality Management is the act of overseeing all activities and tasks that must be accomplished to maintain a desired level of excellence. This includes the determination of a quality policy, creating and implementing quality planning and assurance, and quality control and quality improvement.
QA cannot absolutely guarantee the production of quality products.
Quality Policy
---
Improvement In Challenging Total Customer Satisfaction.